Our staff has fully returned to the office. Please remember a mask must be worn in the building. We are still available via phone, email, or virtual meeting as well.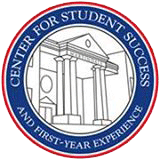 FOR INFORMATION ABOUT CONTRACTUAL READMISSION PROGRAM (CRP) AND EDHE 101/303, PLEASE CALL 662-915-1217.
FOR CRP INFORMATION, CLICK HERE.
The Center for Student Success and First-Year Experience promotes student success through comprehensive, multifaceted, and dynamic initiatives to ensure a quality collegiate experience for our diverse student population.
CSSFYE Strategic Goals
Ensure support for students through quality academic advising.
Engage and support first-year students through quality programs and initiatives.
Support veteran, military, and military dependent students through comprehensive programs and initiatives.
Offer effective academic support programs to ensure student success opportunities.
Utilize data to support undergraduate academic performance and retention.