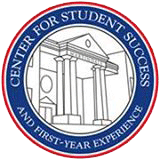 FOR INFORMATION ABOUT CONTRACTUAL READMISSION PROGRAM (CRP) AND EDHE 101/303, PLEASE CALL 662-915-1217.
FOR CRP INFORMATION, CLICK HERE.
CSSFYE Mission
The Center for Student Success and First-Year Experience promotes student success through comprehensive, multifaceted, and dynamic initiatives to ensure a quality collegiate experience for our diverse student population.
CSSFYE Strategic Goals
Ensure support for students through quality academic advising.
Engage and support first-year students through quality programs and initiatives.
Offer effective academic support programs to ensure student success opportunities.
Utilize data to support undergraduate academic performance and retention.
The University of Mississippi is committed to the provision of reasonable accommodations and modifications to university students with disabilities, staff and faculty, and visitors to campus on an individualized and flexible basis as mandated in Section 504 of the Rehabilitation Act of 1973 and the Americans with Disabilities Act of 1990. Please contact cssfye@olemiss.edu or 662.915.5970 if you have any questions or need additional information due to a disability.