Due to the COVID-19 outbreak, the Center for Student Success and First-Year Experience is not currently accepting in person appointments. Please check your email on how we will be proceeding with academic advising until we are given the all clear from the University.
For the most recent update on the University status due to COVID 19, please go to this website: https://provost.olemiss.edu/covid-19update/
If you have a question for your advisor, we are available by email and by phone (662-915-5970)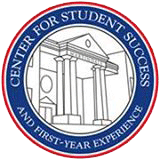 FOR INFORMATION ABOUT CONTRACTUAL READMISSION (CRP) AND EDHE 101/303, PLEASE CALL 662-915-1391.
FOR CRP APPLICATION, CLICK HERE.
The Center for Student Success and First-Year Experience promotes student success through comprehensive, multifaceted, and dynamic initiatives to ensure a quality collegiate experience for our diverse student population.
CSSFYE Strategic Goals
Ensure support for students through quality academic advising.
Engage and support first-year students through quality programs and initiatives.
Support veteran, military, and military dependent students through comprehensive programs and initiatives.
Offer effective academic support programs to ensure student success opportunities.
Utilize data to support undergraduate academic performance and retention.