StudentsFIRST
StudentsFIRST fosters an effective transition to the University by providing targeted services and resources that promote a holistic experience to support students through their journey to become the first in their family to earn a college degree.
StudentsFIRST will provide programs and services for first-generation students to create an enjoyable collegiate experience at The University of Mississippi. During students' first-year of college, StudentsFIRST will introduce resources that focus on the following topics:
Establishing friendships
Strengthening interpersonal skills
Exposing students to the diverse environments
Developing study skills
Managing multiple roles
Becoming financially responsible
Creating student professionalism
Preparing for career exploration
StudentsFIRST will be offering a section of EDHE 105 (Freshman Year Experience) for first-generation college students.  Please contact our office if you are interested in joining us!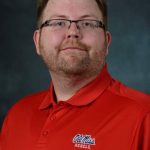 Michael Smith
StudentsFIRST  Coordinator
Center for Student Success & First-Year Experience